Services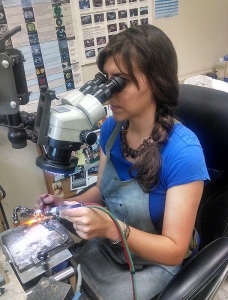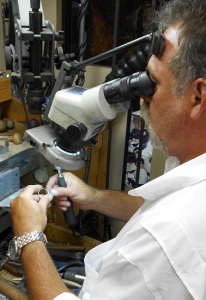 *Most of the repairs are done in our store and will be completed within a few days!
*We guarantee ALL of our repairs for 90 days!
Ring sizing, repair, and restoration
Our business started with jewelry repair more than 25yrs ago. With so many years of experience we have perfected the art of jewelry repair. From a simple broken chain to a major ring restoration you can be confident in the quality of our work.
Diamond replacement and setting
Great care and experience is needed when you are setting diamonds. We have over 55yrs combined diamond setting experience, so you know you can trust our work.
Custom designs and remounts
In today's world of never ending choices it is not enough for jewelers to only offer what is in their cases. So for our customers that want something extra special or have their heart set on using grandma's diamonds, we offer custom design. With a jewelry designer in our store, you can have a say in every step of the custom design process. Our in store designer Cody will use a 3D CAD program to guide you through the process of making your own one of a kind piece!
Appraisals
In order to protect your precious jewelry from loss or theft most insurance companies require you to have an updated appraisal every five years. Our GIA trained staff can write a detailed appraisal for you, complete with a digital photo and copies for you and your insurance company.
Rhodium Plating
Rhodium plating is often electroplated onto white gold or silver jewelry to increase shine, luster and durability over time. Plating will also make the metal more scratch resistant and, when used on silver jewelry, less prone to tarnishing.
Consignment and Estate Jewelry
Our consignment and estate pieces are gently used jewelry that can be a brand new current style or hard to find antiques. These are pieces people have traded, left on consignment, and things we have bought. Stop by and see all of our ever changing consignment and estate items.
Watch repairs and battery replacements
At Your Jeweler we believe in helping people with even the smallest of problems. So if you simply need a battery changed in your watch or need a major watch repair. We would love to help. Stop by or call for details.
Pearl and Bead restringing
Your favorite pearl necklace or bead bracelet was most likely strung by hand. So what do you do when it breaks? Bring it to us and we will hand re-string your precious pearls.
Diamond and Gemstone recutting
Did you know you can chip or break a diamond? Diamonds are very difficult to scratch but they can be chipped or broken. If this has happened to your diamond don't panic and bring it to us. We will evaluate your diamond to see if it can be re-cut to it's original beauty.
Torch Soldering and Laser WeldingTorch Soldering and Laser Welding
Torch soldering is the art of heating up a piece jewelry so precious metal solder can flow into a seamless bond. Our favorite new tool is the laser welding machine that can accurately pinpoint laser weld, with a controlled amount of heat, some of the smallest nooks and crannies of your jewelry to make it as good as it was new.
*We also buy Gold and other Precious Metals!